Cyprus faced the major financial crisis in 2013 when the International rating agencies downgraded the Cypriot economy to Junk Status.
Why it all happened ?
The United States' subprime mortgage crisis in 2007-2008, lead to spiral effect in global economy. The Cypriot economy contracted by 1.67% in 2009, due to a sharp fall in its tourist and shipping sectors. Due to this unemployment increased. From 2010 Cyprus economy did not make much progress , increasing unemployment contributed to an increasing state debt .
The European Union did a haircut upwards of 50% on Greek bonds in 2011. The Cypriot banks had invested heavily in Greek . Due to the over exposure of Cypriot banks to the Greek Debt Crisis , the Cypriot financial system was unable to absorb the cost. The government was unable to restructure the troubled Cypriot financial sector in time . The disproportionate size of the financial sector in relation to the rest of the Cypriot economy meant that a possible collapse of the Cypriot banks would have catastrophic results for the economy. The Cypriot state, unable to raise liquidity from the markets to support its financial sector, requested a bailout from the European Union.
The Solution
On 25 March 2013, a 10 billion euro bailout plan was announced in return for Cyprus agreeing to close its second largest bank, the Cyprus Popular Bank (also known as Laiki Bank), levying all uninsured deposits there, and possibly around 40% of uninsured deposits in the Bank of Cyprus (the Island's largest commercial bank), many held by wealthy citizens of other countries, significantly Russia, who use Cyprus as a tax haven. All insured deposits of 100,000 Euros or less will not be affected.
Cyprus Economic Overview
| | | | |
| --- | --- | --- | --- |
| Year | GNI in US $ | Year | GNI in US $ |
| 1975 | 493,725,058 | 1999 | 9,436,567,055 |
| 1980 | 2,188,313,346 | 2000 | 8,707,313,149 |
| 1981 | 2,115,138,967 | 2001 | 9,153,388,733 |
| 1990 | 5,682,138,955 | 2002 | 10,206,955,007 |
| 1991 | 5,866,845,480 | 2003 | 13,024,786,822 |
| 1992 | 6,998,805,748 | 2004 | 15,129,281,328 |
| 1993 | 6,685,481,729 | 2005 | 16,292,550,260 |
| 1994 | 7,509,710,145 | 2006 | 17,558,640,194 |
| 1995 | 9,039,208,937 | 2007 | 20,223,942,043 |
| 1996 | 9,145,819,803 | 2008 | 23,710,414,531 |
| 1997 | 8,648,055,998 | 2009 | 23,118,782,995 |
| 1998 | 10,137,321,767 | 2010 | 22,539,470,199 |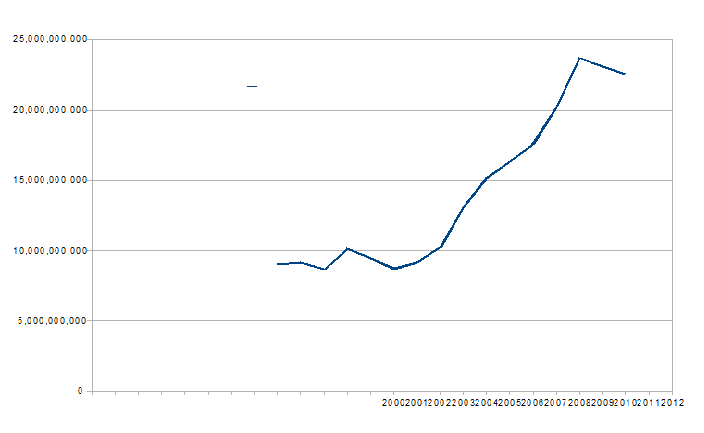 Cyprus Economic Performance 1993-2013
| Year | GDP % Change | Inflation % Change | Year | GDP % Change | Inflation % Change |
| --- | --- | --- | --- | --- | --- |
| 1990 | 7.41 | 4.5 | 2002 | 2.13 | 2.79 |
| 1991 | 0.74 | 5.04 | 2003 | 1.87 | 3.96 |
| 1992 | 9.37 | 6.5 | 2004 | 4.24 | 1.9 |
| 1993 | 0.7 | 4.89 | 2005 | 3.86 | 2.04 |
| 1994 | 5.9 | 4.66 | 2006 | 4.13 | 2.25 |
| 1995 | 9.92 | 2.61 | 2007 | 5.09 | 2.17 |
| 1996 | 1.81 | 2.58 | 2008 | 3.59 | 4.38 |
| 1997 | 2.3 | 3.32 | 2009 | -1.86 | 0.17 |
| 1998 | 5.01 | 2.34 | 2010 | 1.14 | 2.56 |
| 1999 | 4.83 | 1.14 | 2011 | 0.48 | 3.49 |
| 2000 | 5.02 | 4.86 | 2012 | -2.25 | 3.1 |
| 2001 | 4.02 | 1.98 | 2013 | -0.96 | 2.2 |
More Information on Economy
Last Updated on : 6th August 2013